Panel Planning - The Agony of Perfectionism!
updated 3/8/2006
*** This page is about to undergo a major revision...come back often! (Sorry it's taking so long)
When faced with a hard decision, sometimes you just have to go with your gut.
So, it's a
Chelton
3 screen system as pictured below.
Avionics were from
SteinAir
, and
Stark Avionics
. You won't find a better pair of places to buy your goodies.

SteinAir will give you straight talk about your panel choices and does panel building, wiring, and assembly for a reasonable fee.
Click the logo above to go to their website.
Go to the latest Panel Page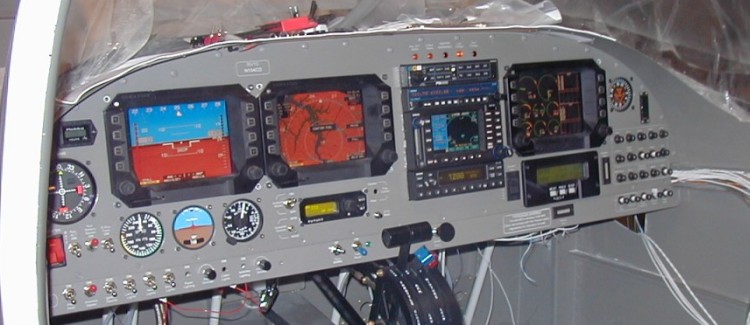 My Panel at OSH 2005 - Photos Here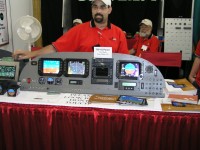 Panel Theory- My panel needed to meet these requirements in order to satisfy me:
A

FULL IFR

platform that includes redundancy in most systems
A Split electrical bus ("essential bus") to provide an easy way to go to minimum power draw.
A 2nd anternator and *small* battery for redundant power due to semi-reliance on electronic ignition. (Lightspeed Plasma III)
A moving-map GPS approved for

Enroute

and Terminal

operations able to legally fly most all approaches, including WAAS
A 2 axis autopilot with Altitude Hold capability, that can track NAV, GPS, HDG, ILS+Glideslope, WAAS Vnav slope, and does GPSS
Dual COM's and preferrably dual NAV's. (One NAV would be OK if necessary)
A secondary GPS, even if it's just a good handheld (The Chelton provides an internal WAAS receiver as well as the GNS480)
A Multi-Function Display (MFD) capable of

Doppler Weather Radar

and TAF/METAR Datalinks and

Traffic

capability
Redundant Attitude, Airspeed, and Altitude, and Heading Indicators...at low cost
5 place intercom with split-com function so Pilot and Co-Pilot can transmit on separate radios **1 place is for video cam
Audio inputs for Stereo Music, DVD players, and Cell phones, with the ability to have separate music Front and Rear
I knew up front that this would cost upwards of 50-55K...yes, just the panel, not the plane. I did find it very hard to choose the hardware.
Blue Mountain
has some great graphics with the Sport and EFIS One units, but their autopilot can't track a GPS approach from a certified GPS. This is just completely stupid. I can't believe the response I got when I asked about this...the lady at OSH 2004 said "Why would you want to do that?", as if it would be crazy to let your GPS approach be flown by the autopilot.
TruTrak Flight Systems
's new Scorcerer autopilot looked like just the ticket, but after I found out about the
Chelton
and
Grand Rapids
Systems, I became aware that if you buy one of them, you will greatly enhance the capabilities of the Digiflight II VSGV...enabling it to not only track a NAV signal, but also fly an approach such as a WAAS approach including vertical guidance down the slope. It can also fly the ILS Glideslope, and has Altitude Preselect capability (*select altitude, fly to it, and level off). It will also have Altitude Preselect added natively very soon. All of these capabilities are due to the fact that the DFIIVSGV is a digital autopilot, and the GRT or Chelton system is acting as the Analog to Digital interface between your NAV/ILS receiver, and the Autopilot.
I went with the Garmin
GNS480
(formerly CNX-80) because it was only one of 2 that can provide the legal WAAS glideslope info for approaches. The other unit that can do this is the
FreeFlight GPS
which is a remote-mount GPS receiver for much less money than the GNS480. It's a great option for a more compact panel or those on a budge...nice too because you can add it later.
The
MX-20 MFD
works with the GNS480 real well, but I prefer the
Avidyne EX-500's
screen. Those 2 units are currently duking it out adding features, but both are very expensive in different ways, to get things like Weather and Traffic info on them. As for Weather, I absolutely wanted weather, including Radar imagery, and TAF/METAR Data. The XM radio weather
WX WORX
now works with the
Avidyne
or the MX-20, but either route will cost you at least $4000-5000 in receiver hardware....if you go with Grand Rapids, you can do XM weather on the Grand Rapids equipment for only $1500, but it's not as "pretty". What got me though, was that Chelton is currently offering a special until the end of July 2005 where if you buy the 2 Screen Chelton system, you can get a WSI AV100 Weather receiver for FREE to add to your Chelton system. This is a great bargain as it sells for $3495 normally. You can get weather cheaper on many handhelds or PC's, but for true integration into your flight deck, this option is about as good as it gets. I found that WSI and XM weather are actually very comparable in what they offer, and in cost.
Both have basically identical costs. I don't see that there is a major functionality difference either way. Given identical costs, I'd have probably chosen XM, but I just can't beat "Free".
Picking out this equipment is very stressful, and can make you crazy. You'll find out that you can pick all your instruments, but when you check the out thoroughly with people, you'll find that depending on your choices, you don't get all the functionality you're looking for. In addition, due to Van's "minimalist" attitude about even their X/C Cruiser the RV-10, you just don't get the panel real-estate you need to buy tons of instruments. This is much of what led me to the Chelton System. One other hot benefit is that the 3rd screen can be your EIS, MAP/HSI, Weather, Traffic, or Attitude display for the Co-pilot. So if you plan to let others fly right-seat, you'll greatly appreciate an integrated 3rd display. This was my main reason for NOT going with the
Advanced Flight Systems
AF-2500 (was ACS2002) They have arguably the nicest EIS display out there, but it isn't currently as integrated as it could be. In addition, the GRT EIS 6000 interfaces to both the Grand Rapids and Chelton systems (you order a different part number with the Chelton, but it's basically the same unit) and will allow you to have your 3rd multifunction screen at a possible overall lower cost. Again, you have to be very careful with your product selection if you want to stay on-budget, and still have all the functionality you can possibly get.
Regarding Traffic, probably the most common approach right now is to purchase the Garmin
GTX-330
that includes Mode S Support. This provides you with traffic display in areas that are basically served well by in-flight ATC radar in high-volume terminal areas...where you need it the most. Be aware that when you want to interface an AIRINC 429 device like the GNS480 or GTX-330 to the Chelton System (not sure about the GRT), you need an AIRINC 429 to RS232 converter. It's not the cheapest thing in the world, but it's the way to eek out your greatest functionality.
** All Manufacturer related info was as received during my shopping period....some things may have changed since.
Here's a shot of Chelton's on-screen weather. (From some other people's panels on the internet...not my panel)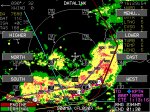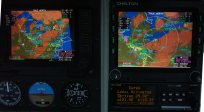 Here's a good alternative to Van's small metal panel. A fiberglass replacement panel option available for the RV-10.
Click HERE
for more information on the Avionics Systems Panel.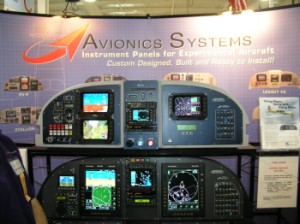 Here's the
Aerocraft
RV-10 panel. It's a fiberglass Molded panel and console that looks very professional.
Note: Numerous RV-10 people are currently becoming infuriated at the delayed deliveries of their Aerocraft Panels. If you go this route,
you'll get an excellent panel, but it may reuqire a year or more leadtime from the time of order. Prepare yourself for the frustration, and of course...caveat emptor! It is a fantastic product, but if the service matters to you, look closely at the alternatives before you plunk down your deposit.
Click the photo for a link to more panel pics of this panel.