This is too easy, but I struggled with a few of these before I came across this idea, so I figure it's worth sharing."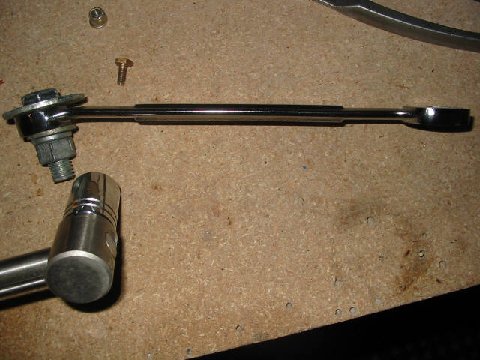 ---
Jacking the RV-10
I just thought I'd throw this out there. It works great, and was pretty cheap. Not everyone will want the project, but the result is great.
The bottle jacks were from Harbor Freight. $39.99each. The "C" angle and 3/4" square box tube steel were from a local steel supplier for a total of less than $44, with the exception of the 3" I.D. steel Pipe that I cut from scrap. The jack pads are 1" or so thick, aluminum, milled to just accept the jack into them. Grade 8 bolts get recessed and go through the jackpad, and the pad screws into the tiedown area under the wing. A buddy of mine, the one who helped me use his mill to cut my panel, did the jackpads for me.
The jack stands were made with this parts list:
2ft. C-angle steel, 3" wide - Quantity 2
10.5" C-angle steel, 3" wide - Quantity 4
22" 3/4"x3/4"x.125" Box Steel legs - Quantity 8
3" I.D. Steel pipe, 1/4" approx thick, about 3-4" long - Quantity 2
I cut it all with my Harbor freight steel chop saw (el cheapo). Then I cut angles in the 2 ends of the legs. Then just used a welding magnet to hold it together while I welded it up. As you can tell by my welds, I'm no expert. This is the first real project I ever did using a wire-feed welder, using my Miller unit that I got at OSH a few years ago. I couldn't wait to use it, but started with way too much power, so it looks sloppy, but it's plenty strong. After I got done welding, the 3" ID tube around the top of the jack had a tiny gap between it and the jack, so I filled it with flox and epoxy. Then, since the steel was unpainted, and the jacks were just orange, I thought I may as well waste some time and paint them blue. The cheapest jacks I could find were something like $219/ea online, and I can only imagine what the shipping was. These were a total of about $80 + $11.00 shipping from HF, and then the steel, so under $125 for the pair.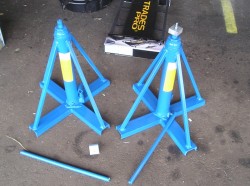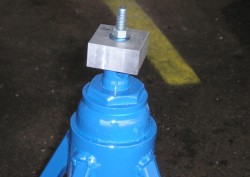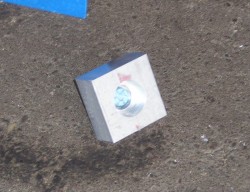 The jacks I used were from Harbor Freight, and here are the details:
3 TON SUPER HEAVY DUTY LONG RAM HYDRAULIC FLAT BOTTOM JACK
Enormous Stroke for Big Jobs. Ideal for use on hydraulic cranes, engine hoists, and a wide variety of applications for mechanics, truckers, farmers, and off-road enthusiasts. Enormous 20'' stroke for jobs requiring a large lift. Baked enamel finish. 1 piece handle.
* Capacity: 3 ton
* Max. Height: 44-1/2''
* Min. height: 24''
* Stroke: 20''
* Shaft diameter: 1-7/64''
* Pinhole size: 5/8''
* Weight: 27-1/2 lbs.
ITEM 36468-2VGA
Price: $29.99 (at the time of writing this)
---
Here are some shots of professional ones: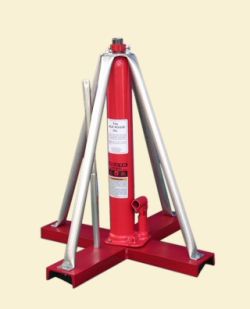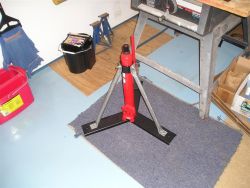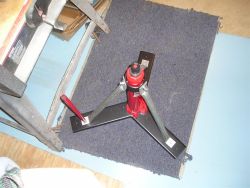 Nosewheel Jacking

Here's a "new to me" method of working on the nosewheel. I cut a 1' x 1' square out of my hangar floor under the tail eyelet, and then hand-mixed concrete and embedded about a 10" long hex bodied turnbuckle into the concrete, leaving the lower hook in place. Now, flush with my floor is a threaded hole that accepts a 1/2" bolt or in my case, eyelet, that is removable. I used a short hand-levered cable winch to the tail eyelet, to lift the nosewheel off the ground for nosewheel maintenance. Also pictured is my
Harbor Freight #95912
winch, which is 3000lb rolling load rated and has a small key-fob wireless remote for operation. I haven't tried it yet, but Van's says the RV-10 should handle the tug fine on the tail eyelet (especially considering I'll still be pushing the prop/spinner as I back the plane in), so when there is ice in front of my hangar, I intend to use that to give the plane some additional pull. The winch operates about 6" at a time, with each button push, so it should go in nice and slow.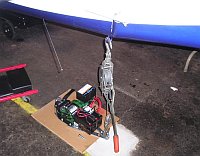 ---
Fitting Those Hard-to-Reach Washers
Albert Gardner came up with this great way to make a washer wrench from a popsicle stick. You can buy actual washer wrenches, but if you want to save money or just need one in a pinch, this looks like a simple way to go.

---
Brake Lines (external to fuselage)
I've heard before that people have had problems with the brake line coiled around the axle leg. The coil gets flexed on landing and the repetitive flexing work hardens the aluminum tubing, causing it to crack, and your brakes to fail. Because of this, when I did my brakes, I put a coupling in the aluminum tubing about a foot from the bottom, and ran high pressure braided teflon hose from that point. This made for a nice coil that will never break from flexing. Improving on this idea, I have recently replaced the lines with braided teflon all the way from the fuselage to the brake, eliminating 2 more possible nuts that could leak. This was partially prompted by a report of another RV-10 that almost suffered a complete brake line failure due to flexing of the gear legs up by the fuselage. The overall length of hose required to do this is 44" which includes the fittings on the end, but I forgot my measurement between measuring them and ordering them, and ordered 46" which also worked. So anything between those 2 lengths should work out, but mine are 46" You can see my lower brake hoses, both my original 1/2 teflon, and my recent upgrade to all teflon, in the pictures
HERE
.
---
Smoking Rivets
A good Matronics Excerpt by Noel Simmons
---
Tire Balancing
After 330 hours of flying, it was finally time for new tires. I have had a shimmy between 35-40mph on landing since I started flying with wheel fairings, so I decided to take a tip from a couple other people and invest in a tire balancer to see if that would fix it. Indeed, it seems that by balancing my mains, my shimmy is almost completely gone!
Read here for more info
.
Below, is a picture of my tire balancer, available at
Marc Parnes Products
. The DU42 model is made for Ducati motorcycles and the cones uses on this model work perfectly with the RV-10 Cleaveland Wheels.

Proving that the balancer design isn't as critical as balancer quality, below are phots of Vic's balancer that he got off eBay, with an auction title of:
"THRUSTER PRECISION STATIC BALANCER" from "thruster-king". Any good balancer should do, provided it uses the proper cone sizes.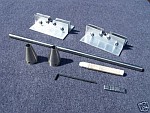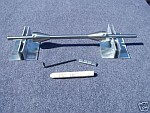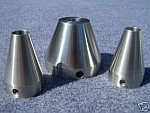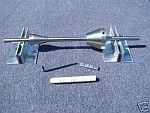 ---
Plexiglass Care
When it comes to taking care of the windshield, I take it pretty seriously. First, I hate bugs on the windshield. To me, it's not just that I like to take pictures and enjoy scenery, but it's also a safety thing. It's far too hard to spot other traffic in the sky when you're looking through a windshield full of bugs. Because of this, after every flight, I clean the windshield and bring it back to clear. Also, I know many many people have had great luck using Pledge wax for years. Personally, I've used it on other planes and it seems to work fine. But when it comes to my RV-10 I hold the bar a little higher.

Look at the windshield once...how it's fiberglassed in place, not very good for easy removal. To me, skimping on the proper windshield cleaner just isn't worth it when you consider how big of a pain in the butt it will be to replace if you should mess it up. So for my winshield, I've switched to only the proper materieals and cleaners.

At the bottom of the picture is shows a standard Microfiber towel. You can get these almost anywhere nowdays. Those are much better for cleaning than standard cotton cloths, and they aren't expensive, either. I do launder mine, but I don't let them get used too many times before they get relegated to some other task...any sign of dirt that doesn't launder out and I start looking for a new one. I keep about 5 or 10 on hand and buy different colors...some for the windshield, and others for when I use spray wax on the wings. (more on that below)

When it comes to cleaning products, since I started flying the RV-10 I've used Plexus, which is made for Plexi and works well. It's not a bad product, although it is fairly pricey when you consider the other options. At OSH one year I picked up a pair of cans...Clear View, which comes as a foaming cleaner, and a protector. At first, I wasn't happy to have to use 2 separate cans....I was used to just spraying tons of plexus and wiping the bugs off with the protector material. But I soon noticed that the Clear View product actually seems to work better at getting the bugs off the windshield. The foaming spray makes it so that I can just spray, let soak a few seconds, and then wipe the bugs right off. I use one color of microfiber cloth for wiping the bugs, and the other for applying the protectant. After getting the bugs off, I use their protectant and it sprays on and wipes right off. I've found that the bugs come off so much easier with that stuff, that after I finish using up my supply of plexus, it's going to be my new exclusive. I just bought a bunch of cans from Great Lakes Aero Plastics, and the 2 cans together cost about the same as Plexus.

---
Keeping the Bugs off


Now here's a tip I wish I would have heard and followed a LONG time ago!!! Usually after flying, I've used a spray designed for removing bugs, that is aluminum safe. It's a local product at our farm store called "Jungle Jake". Nothing against the stuff...it works pretty well for many uses, and is non-toxic and biodegradeable. So the first step was to get off the bugs, and then after that I used a couple different brands of spray-on/wipe-off detailer or wax. There are a couple real good ones out there that do a good job, and if you use them the bugs come off easier the next time. My previous routine was to wipe the bugs off and then re-wax the leading edges after every flight. Well that just changed!

A friend and fellow RV pal recommended RejeX, which is made bye the CorrosionX people. It was apparently designed for the military to keep exhaust residue from sticking to the airframe and making it easy to clean off. For us with our RV's, it does an excellent job in keeping the bugs from sticking, too. It's not the cheapest stuff aroud...by the gallon it's over $100/gallon, but I just bought 1 bottle at OSH to try it, and then after seeing how it worked I quickly ordered a 2 pack from http://www.SkyGeek.com, which seems to have about the best price I could find on the stuff, at $26.95 for two 16oz bottles. On my first use, I just did the forward nose cowl, the wings, and the horizontal and vertical stabilizers. I did the fuselage with Turtle Wax Premuim, as that doesn't tend to get much for bugs on it. I let it cure 24 hours before flying, which is a good step I guess, and then I gave it a try.
Lets just say I was blown away with how much easier the bugs came off. I didn't use any sprays, or chemicals...just grabbed a terrycloth towel, poured a little water on it, and then wiped, and the bugs all just wiped right off. It was amazing! Supposedly the stuff lasts pretty good, too, so maybe twice a year I'll need to use it...or maybe I'll do it 4 times on the leading edges. The experiences has been great so far, so I thought I'd pass it along.

---
Freeze-Proof Cabinet (Keeping liquids warm in the winter)
Here's one of my favorite little projects of the fall, now that I can comment on how it's working out.
This fall I wanted to prepare so my chemicals at the hangar (windshield cleaners, hand cleaners, and all that good stuff) wouldn't freeze and get ruined. I had previously used a wall mounted cabinet with foam glued to the inside, but it still stayed pretty cold. So this fall I advertized on Craigs list looking for a junk mini-fridge. I got one for free, which of course is a pretty good price. I ripped out the guts, and put in an outlet trio and mounted 2 15W mini-base lamp sockets in the freezer area (so it heats that metal plate), and stuck a 15W Reptile terrarium heating pad to the floor. The heating pad was a waste of money...it's unnecessary, but it does warm things like those big bottles of simple green and other cleaners.
Today, with OAT's that went from the -20F to +1F range, I used my Harbor Freight infared thermometer and checked the inside temp. It's over 100F on that metal plate, but about 85F on the walls inside the fridge. So, plenty of nice warm chemicals to use. I used 2 bulbs so that there would be redundancy, because one should easily keep it from freezing. So far I've burned out one bulb, so having 2 was a good idea. Cheap, and works great.
For those who worry about the safety factor, the reason I chose 15W bulbs is to prevent it from being too warm. I also tested it thorougly for a few days before I loaded it with chemicals, testing it on 90F degree days. It was simply not possible to warm this past the safe zone. I could, as some have suggested, install a thermostat, which isn't a bad idea at all, but, it does add a little more complexity and complexity often just means one more way to fail. If I had a thermostat on it, I'd buy one that keeps it at about 70 degrees, but considering I only need this cabinet when the temps are below 40, I'm happy to just let those 15W bulbs burn all winter long. My Reiff cylinder and oil sump heaters on the RV-10 draw much more current than these 2 bulbs do.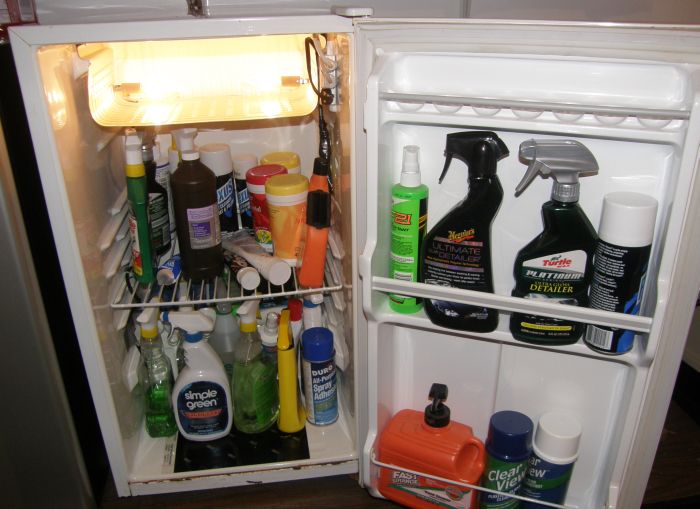 ---
Tire changing - My Tire Bead Breaker
After a few hundred hours, breaking the bead to swap tires was really starting to become tough.
Read my write-up
HERE
for this tire bead breaker project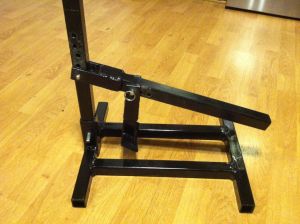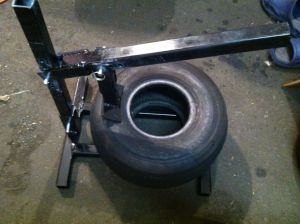 ---