Even though this is a "kit" the kit itself only addressed the airframe. There are a number of other decisions (and costs) which need to be made during the course of the build. The following is a summary of some of the major decision that I have made or are considering:




Engine



Van's aircraft recommends a 260 hp Lycoming IO-540 D4A5.

ECI is developing a non certified clone/kit of the IO- 540, many of the parts are already available, certified and are used by rebuilders.mechanics today. the remainder of the parts for thier kit/clone will not be available until 'later this year (2006), that's probably going to be too late for me.

I met a rebuilder at the Copperstate EAA fly-in Americas Aircraft Engines, they work closely with ECI (their booth was next to them). they use ECI Titan cylinders and rebuild IO-540 to 'new' specs from old Lyc cores. I've spoken with several people who have dealt with them, and they have a good reputation and thier price is excellent.

There are a number of 'alternative engines' many of them adaptations of an automobile engine. the history of the alternative engine market has not been posative over the long term. One possible exception is Eggenfellner Aircraft Engines: Jan Eggenfellner has adapted a Suburu 6 cly and has 3-400 engines flying in many aircraft including several hundred RV's. I have considered his engine and am monitoring the development of his RV-10 version of his H6 engine. Of concern to me is that in order to generate something close to the 260 hp (230?) he has to supercharge the engine and spin the engine at a fairly high RPM in order to produce the power. We'll see.

I had my 1st visit from my EAA Tech Councilor who is a long time A&P IA, he made some compelling points about anything other than a factory engine. His point is that engine parts have 'limits' set by the FAA, if they are within limits the part can be reused. Say for instance a crankshaft can be .003 undersize and still be OK, so the engine mfg puts it in the 'good parts' bin where it gets used to build your engine. But say shortly after installing your 'new' engine the crank wears to .004, then you are actually blissfully flying around with a crank that is not within service limits. This has caused me to seriously reconsider anything other than a new engine.

After getting a lot of input from the Matronics board, and talking off line to several people. I made my engine choice and placed my order with Allen Barrett of BPA Engines http://www.bpaengines.com/ . The timing of my decision was based on the price increase for the experimental kits from Lycoming in 1 or 2 days. I already saw one price increase and want to avoid another. BPA is a respected engine builder they use the kit from Lycoming. These are new Lycoming parts/components direct from the factory, similar to Aero Sport and Mattituck, only they do some extras eg. porting and flow matching, custom paint, dynamically balancing the rotating parts to a much stricter tolerance than others. (Others will do this but for extra fees). Then they do something unique, they run your engine on their dyno for 1 1/2 hours with a minute by minute printout that you get. Their attitude is that they believe this is the only way to build an engine and they won't build it otherwise. They'd rather let business go to other shops than build to a lower standard. I think that speaks tons to the mindset and attitude/culture that governs the way they operate. They also do Kirby Chamblis, and Patty Wagstaff's engines as well. Allen Barrett made a personal call to me to answer all of my questions and was extremely professional. As one person said "picking an engine is a painful experience" and each individual decision is governed by what is most important to that person. In this case BPA met my criteria. Thanks again to all who contributed knowledge and information to this process:

I went with the 9:1 compression pistons which give a slight increase in HP while maintaining the 2000 hr TBO.
Upgraded the Fuel system to the AFP FM-300 (also adds some HP, and some gph!)
And adding the Barrett Cold Air Indiction System (CAS) another HP increase!
Maintaining the Magneto ignition for the present. (I really like the design of the Emag/Pmag but they lack a 6 cyl version, and obviously any history with same). GAMI is working on PRISM/Suplenator which has the potential to be a MAJOR step forward in ignition systems, watching with interest.

My Engine !








COWL/ Pressure Plenum



With the slightly souped up engine, it would be a shame to not do something to reduce drag. It appears that the stock Van's cowl is pretty inefficient both in terms of cooling and in drag reduction. The best bang for the buck seems to be from

Will & Sam James

and the HOLY COWL and it's associated pressure plenum - this is a much more efficient cowl and pressure plenum that not only reduces drag, increases speed (7-10 mph) but also improves cooling efficiency. They have developed a version for the RV-10 and Will is in the process of adapting it to accomodate Allen Barrett's CAS induction system. Another RV-10 builder - Gary Foster has been working with all of them to get it all dialed in. It should be ready after OSH '06 and Will has promised me the 1st production cowl w/ the CAS mod following Gary's.
Update 1/11/07 - The cowl arrived from will James looks eriffic! I also ordered the Pressure Plenm from his Dad, Sam, which should arrive in a month: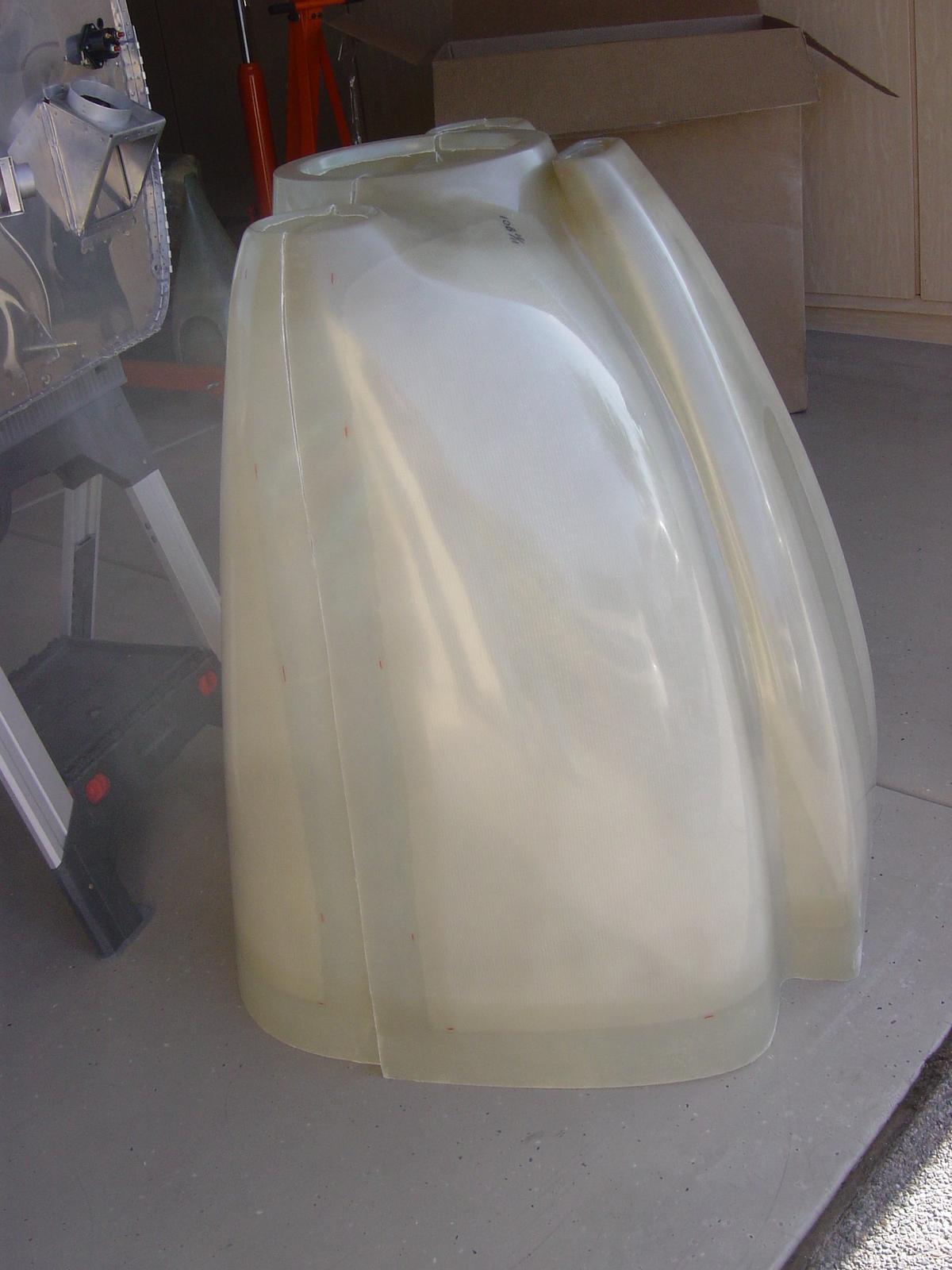 Exhaust

Boy am I ever getting an education ! One decision leads to another which leads to another and ...... Any way after making some improvements to the engine, drag reduction, and cooling, it also raises a question regarding exhaust. Van's Firewall forward kit comes with a Vetterman Exhaust, which is an excellent exhaust. Allen Barrett is familiar with and has recommended to me, John Forsling who makes tuned exhausts for aircraft. John worked with Vetterman when he was starting out. John actually spent some time at Allens shop working with him using their equipment and dyno testing exhaust systems to find out exactly what adds power and what takes away. He even built a system and dyno tested it for the CAS. Allen seems to think he's got it nailed.



4/24/06

- Called John Forsling today and talked regarding his exhaust. He's done one for another RV10 builder (Gary Foster) who it turns out has almost the exact same engine set-up as I have from BPA. John confirmed that he had used Allen's dyno to experiment and findout what worked best with the CAS system. I went ahead and orderded one of his exhausts. He still has the exhaust that he used for the dyno test and will send it to back to Allen so that Allen can use it on the dyno run to set and balance the injectors with the tuned exhaust. Not bad ehh?


Propeller


07/13/06

- I placed my order for an Aero Composites 3 blade composite prop model # 3300 . They have their prop on a couple of RV-10 now and we should see some performance numbers coming shortly. The feedback from the builders is that it is EXTREMELY smooth. They make claiims on their website ofr 5-10 mph speed increase due to their props. In talking to John, he believes that their prop should equal the Hartzell 2 blade blended airfoil and still provide the smoothness and ramp appeal of the 3 blade. They've got a bit of a work queue and won't have it ready until late Nov. but that should still work for me.

I'm having the prop custom painted to match the aircraft paint scheme, here what it will look like: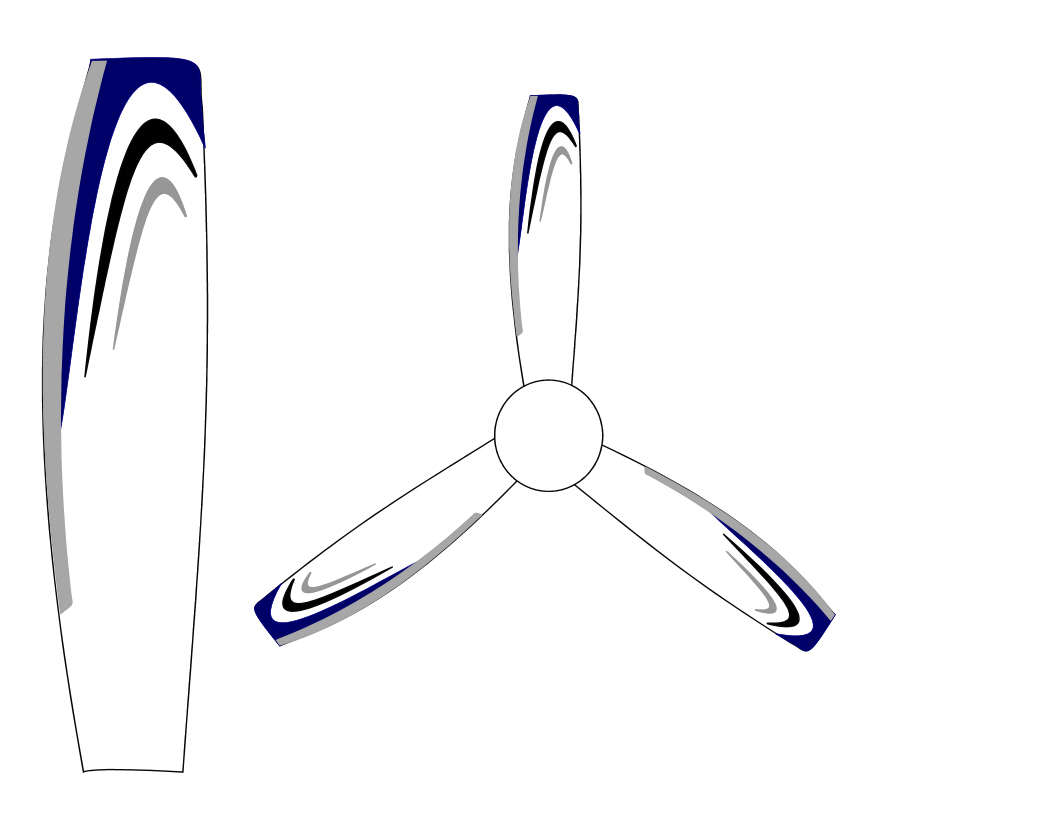 The prop arrived today (4/23/07) !!!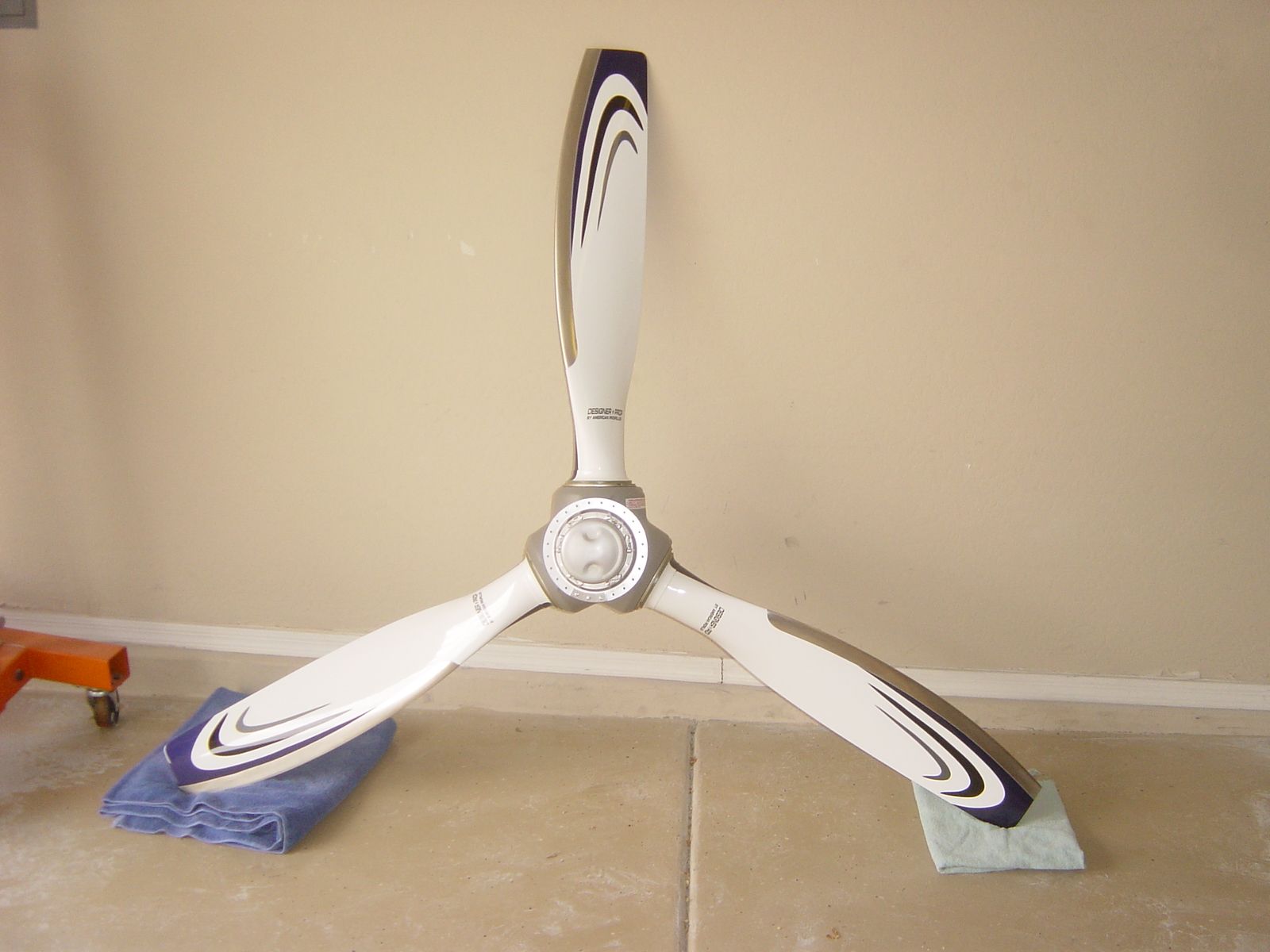 Panel/Avionics

EFIS/MFD OP Tech, I saw them @ OSH and was impressed with a cursary look. They have all of the functionality of the Chelton except the 20 mile engine out glide display (which is patented by Chelton) But with a decidedly larger screen for somewhat less money. I say somewhat becasue they are still expensive. I will go with dual 8.4 inch Portrait displays, What I really like about them is that with a dual screen system, each screen can be split into 2 seperate windows, i.e. you can have EFIS and Syn Vis on top and the HSI moving map below, or engine monitor, or ???. This gives you essentially the capability of having 4 panels/windows of information displayed in the cockpit at one time. Additionally on one of the display panel options you can have 4 engine gages displayed (small) across the bottom/side , which essentially provides 3 sets/windows of information on one screen!!!!. This completely eliminates the need for a 3 screen system., while providing larger and brighter screens than the Chelton. (Their screen NIT rating is 1500!) That should be more than 'sunlight readable'. They also have the capability of displaying IFR approach charts directly on their screens.

I found a fiberglass panel that I really like. It turns out that its made for a Lancair IV, but I think I can make it fit an RV10 with some modifications. The panel comes from Aerotronics. A couple of other RV10 builders have purchased them, 1 has already installed it. They did a layout for me to see if it would accomodate the OP Tech displays and it will. I had previously thought that I'd make my own, but this is so close to what I was thinking about, that it's not worth the effort anymore. Gary Wirell is an OUTSTANDING guy to work with. After mocking up my panel and building the initial harnesses, i had a few problems with the alum subpanels that I cut by hand. I began to set up some AutoCad files so that I could have them machine cut. but I was having difficulty in getting the irregular outline shape input into Auto Cad. then it hit me, Call Gary, afterall they made this panel and even though I'm building the panel my self. perhaps they would have the CAD templates and be willing to cut out the panels. Gary called back almost imediately, and said he'd be happy to cut out the sub panels. THANKS Gary, you guys are GREAT to work with.



My Initial Proposed Panel






I've made some changes to the above picture:

1. I'm going with the Dynon D10A instead of the 3 steam gages, it was only slightly more money, but includes several more instruments for back-up.
:2. I dropped the GNS430/480 and added a remote mount Freeflight WAAS gps sensor. this saves panel space, feedback from Tim O. was that the functionality of the 480 wasn't all that useful, the SL30 &40 can be tuned directly from the Op Tech EFIS
3. I'm moving the radio stack higher and will be mounting the Dynon towards the bottom


EFIS & Engine monitor Op Technologies Dual 8.4" Sport a REALLY NICE display included Syn Vis and IFR Charts, a little less than the Chelton but w/ MUCH larger display
NAV1/COM1 Garmin SL30
COM2 Garmin SL 40
WAAS GPS Freeflight 1201

Transponder Garmin GTX 327
Audio Panel
Garmin
GMA340
Autopilot Tru Trak Digiflight II VSGV

still being researched:


Ipod/MP3 Music Player
Traffic Avoidance
Carbon Monoxide Detection
On Board Weather



Current Status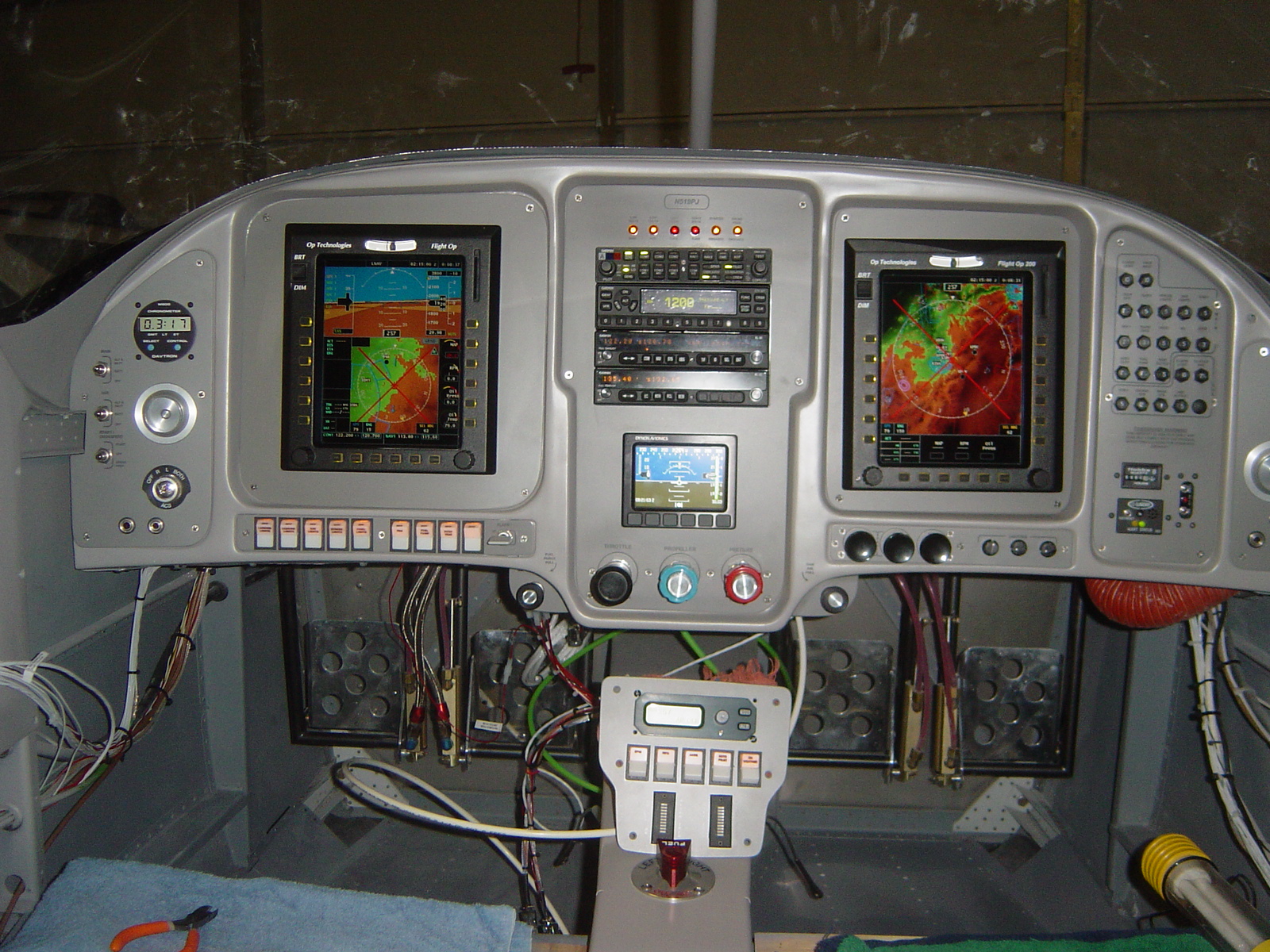 Lighting



Landing/Taxi

- I'm going to use the Duckworks wing mounted lighting system, but NOT the HID's, again they are nice, but I don't fly that much @ night and if/when I do, the 100 watt halogens in each wing will do nicely.



Strobe/Position

- I found these LED position lightsbrowsing a forum on Vans Airforce. They are made by an RV 7 builder Jeff Bordelon - RV-7A@Austin.RR.com . They are LED Nav position lights coupled with Strobes. I REALLY like their apperance, most of the other LED position light implementations all have some ugly electronics visable, these are clean and I like the mirrored surface that backs them up. I don't think there is a more attractive and less expensive package out there. I highly recommend them to anyone considering something other than Whelens.

Here's what they look like powered up in the daytime!!!!!!.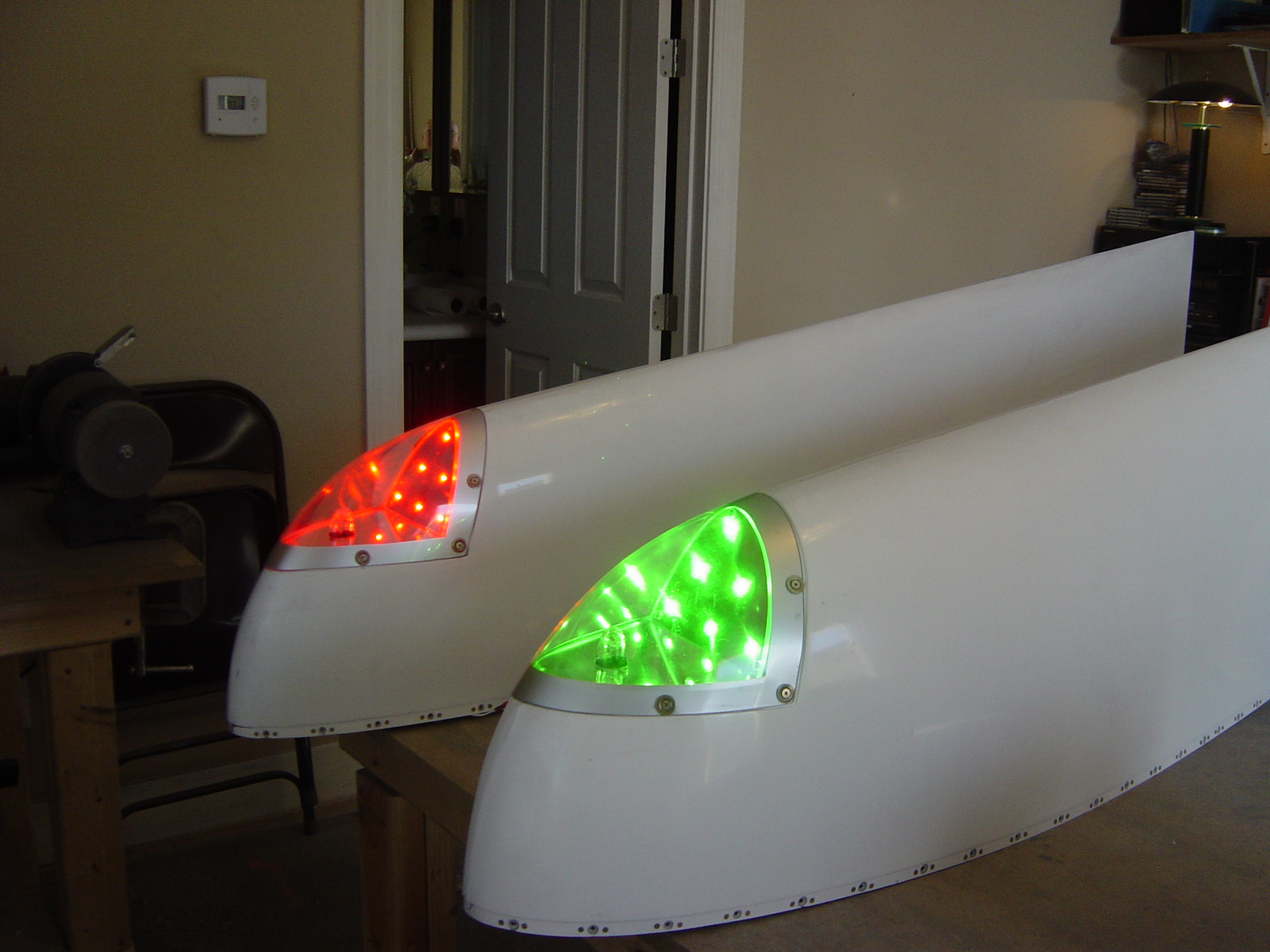 PAINT



Ok this is REALLY the final paint scheme (12/31/06). I think I've gone through 175 different designs, Got back from OSH and able to see a LOT of planes, i really like the solid color on the bottom of several planes, so I decided to incorporate it into my scheme. The trim colors will be metalic, I'm still searching for the final paint chips. I need to finalize soon, as Allen @ BPA engines needs to know so that the crankcase can be painted the right shade of blue to match the trim. I'm going to ask him if we can get grey sparkplug wires.harness. That with the chrome valve covers should look nice.



NEW / FINAL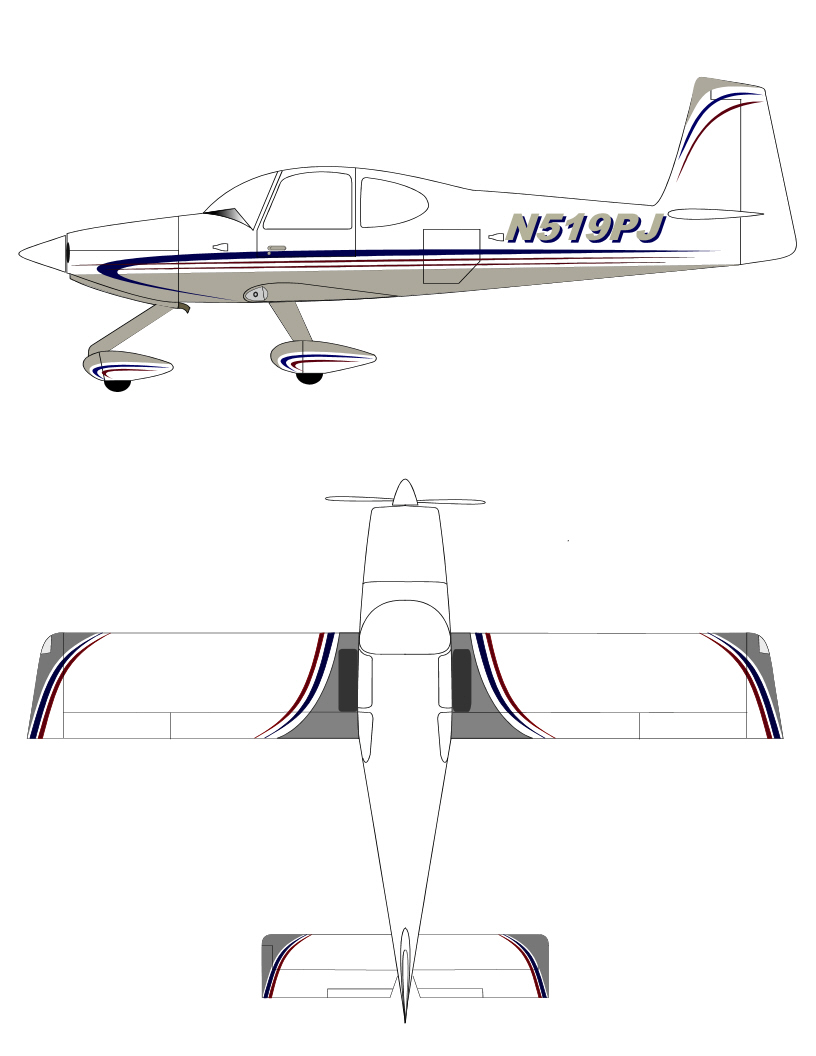 Upholstery

I placed an order with Classic Aero Designs or front and back seats. I particularly like the rear seat treatment, they added headrests, which I believe are pretty much a necessity if adults will be sitting in the rear. They have a side panel and carpet package "planned", I'm hoping it will be available by the end of the year.



Here's pictures of the seats from Classic Aero