Randy RV-10 #006
These are all photos of N610RV, Randy's RV-10 kit #006. They are a fantastic reference to all, as he is likely to be the first customer-built RV-10 flying. Within these photos are the answers to many of your building questions. Throughout the process of being one of the first few done, he's found numerous issues that he's worked with the factory on to provide future builders with a better kit. Thanks to him, you're building process is likely to go much smoother than his.



Latest News: 5/20/05 Randy flew his RV-10 for the first time, becoming the #2 customer built RV-10 to fly. 6/3/05 Randy completed his 25 hour fly-off and took his wife and friends for a flight, making him the first RV-10 to reach full completion and FAA approval. You'll notice that his plane is really complete, with the entire paint and interior ready. He and his plane will be at OSH 2005 for all of us to come oogle over. Great Job Randy!



---
For a variety of Randy's pics, click the links below.
Right-click and choose "Save as" or "Save link as"

First Flight 5/20/05 video by Bruce Breckenridge

Celebration Video Compilation by Bruce Breckenridge

Note: For VCD Compatible MPEG's your best viewing is to burn to a CD with your favorite CD Burning software capable of making Video CD's...then play on your DVD player.
Back to Home Page
---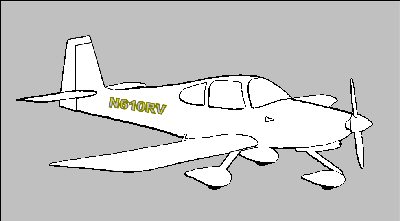 ---