GPS Integration



For a long time now I've lived with poor GPS integration on my APRS tracker. The issue is, I'm a cheapskate sometimes, when it also involves solving a problem I'm not ready to tackle. In my case, when it came time to put in the APRS, I didn't want to put a GPS antenna on the upper deck, but I DID want to belly mount a whip for the transmitter. This gave me the tailcone next to the battery as the mounting location....but unless I put a GPS in the wingtip, I had no good way to put in another GPS feed. My Pinpoint GADAHRS for the Chelton system is right back in that same area, and it has a GPS in it. So, I tapped into that line and fed my APRS with the GPS from my primary flight system. This GPS I had was RS232 at 9600 baud, so I also had to get a newer version of APRS firmware at the time, that would allow me to run at 9600 baud, as most APRS transmitters want(ed) 4800 baud GPS. But, it worked, and saved me wiring in and powering another GPS. There was one other downside as well....the GPS I was using didn't transmit altitude. It was a NMEA-0183 format GPS, and the ACK E-04 can use both Aviation and NMEA-0183 type GPS's, but my APRS transmitter could only use NMEA-0183.

So when it came time to send GPS to the ELT, I could have left my APRS as-is, and pulled a wire to my GNS-480 and fed the ELT it's Aviation format GPS, but I didn't really want to wire anything to the connectors on the GNS-480, and I really DID want to get an altitude sending GPS for my APRS as well....so that family tracking me could tell when I was descending. So this was the perfect opportunity for me to do some extra work, and get a new GPS installed that would work with my ELT and APRS. It would also allow me to clip the wire using GPS from my GADAHRS, so that if my ELT or APRS had some sort of failure, it wouldn't be at all tied to my flight display, which is a good thing too.

The only real complication is that I would have to now finally mount a GPS in the wingtip if I wanted it concealed and away from other things, and that meant only a small area (about 1 sq.ft.) of area in the wingtip as ok mounting area if I wanted to keep it under the white, non-metallic painted areas. No big deal.

I did a bunch of research and digging online for a good GPS, and knew I was looking for something pretty simple, but I wanted a good performing GPS. The Sirf 3 chipset GPS's seem to be very very good performing and highly sensitive, so I went down that path and bought a GlobalSat BR-355 GPS puck, which is only about $35-40....$50 delivered, WITH an RS-232 D-sub cable. (I got it from Semsons, if you're interested). You need a GPS which is a real RS-232 GPS, not USB. This one came RS-232, so it was a good match. The only need for the RS-232 cable is for any configuration changes to the GPS that you want to do. I used it to make sure that WAAS related messages were turned on, but I'm sure that out of the box it would have worked fine as-is. The GPS itself is maybe 2" in diameter, and 1" thick or less.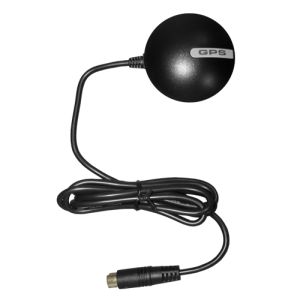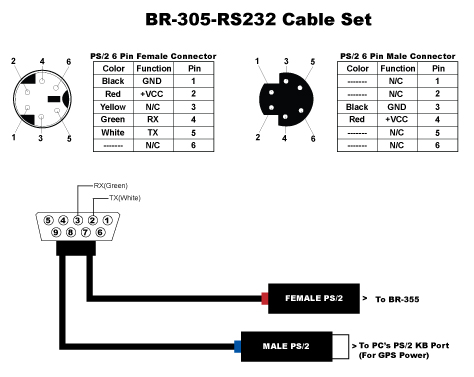 I cut the cable end off and found that although the above end says that the Green wire was "RX" that when hooked to my laptop serial console, I would get data using Black/Red for GND and Power, and Green was transmitting me data. I had a 5V regulator circuit I had made for another airplane project a while ago, so I already had a way to regulate power down to the required 5V for the GPS, so I mounted the regulator and GPS in the wingtip.





Regarding the Altitude sending of the GPS, my original GPS transmitted only this one message:






$GPRMC,210636.40,A,4453.61237,N,09152.30869,W,0.021,237.31,180411,,,A*7E
$GPRMC,210636.60,A,4453.61236,N,09152.30868,W,0.036,237.36,180411,,,A*7D
$GPRMC,210636.80,A,4453.61235,N,09152.30867,W,0.017,,180411,,,A*61






The $GPRMC message doesn't include altitude, so that's why I never could report my altitude with APRS. Now, it isn't that I didn't TRY to use that GPS with the ELT....I did, initially, but the funny thing is, that above $GPRMC also isn't enough for the ACK ELT...it wants more GPS messages too....so, I didn't get any blinking LED on my test light (photo below of my test light), but instead got a solid red light, but only with the test light hooked up in REVERSE. The reason is, if you don't have valid GPS, you'll get something like -5.57V on that test wire. If you have valid GPS, it'll blink with +5V, and between blinks the voltage goes to -5.57V. So, the GPS from my GADAHRS wasn't going to work anyway.

Here is the GPS output I logged with the GPS from the GlobalSat BR-355, complete with the $GPGGA message that contains the altitude

$GPRMC,222706.000,A,4448.4491,N,09142.5949,W,0.32,116.92,260411,,,A*78


$GPGGA,222707.000,4448.4490,N,09142.5948,W,1,09,1.1,264.5,M,-33.7,M,,0000*61
$GPGSA,A,3,23,06,20,16,31,30,13,32,03,,,,2.0,1.1,1.7*35
$GPGSV,3,1,12,23,81,260,42,16,74,079,40,30,51,055,38,13,45,309,36*7C
$GPGSV,3,2,12,06,31,129,20,03,28,148,23,20,24,219,29,31,16,082,18*71
$GPGSV,3,3,12,32,16,195,20,10,13,320,,07,11,274,20,19,03,165,*7C
$GPRMC,222707.000,A,4448.4490,N,09142.5948,W,0.41,120.23,260411,,,A*72
$GPGGA,222708.000,4448.4489,N,09142.5948,W,1,09,1.1,264.0,M,-33.7,M,,0000*63
$GPGSA,A,3,23,06,20,16,31,30,13,32,03,,,,2.0,1.1,1.7*35
$GPRMC,222708.000,A,4448.4489,N,09142.5948,W,0.04,267.11,260411,,,A*75



The one thing I haven't yet spent time on is the last part that wasn't included in the kit. My GPS was a 4800 baud GPS. Most Aviation GPS's would be 9600 baud, which is probably why they don't supply the jumper. But, in order to receive 4800 baud GPS, you need to jumper 2 pins with a regular .100" (2.54mm) hard drive jumper. See the photos above for where my jumper is placed...jumper info is in the install manual.

So, with all that tested and wired, and my ELT back from ACK's quick rework, everything is installed and working great. As a bonus to the delay, I had registered my ELT with NOAA before I sent it back to them, and by the time I had it back in hand, my sticker came from NOAA, so I got to stick it on the ELT....no more pulling that VS fairing for a while!

Installation complete, and for FAR less than the original $1000 or greater price tag!