Economical Travel with the RV-10
Traveling To Mackinac Island, Michigan



This vacation was the epitomy of RV-10 travel, showing how nice it can be to travel in comfort, with some fantastic economy...all in a plane you built yourself.

First let me start by telling you, Mackinac Island is a great place to visit. It's an island right next to the straits between lower, and upper Michigan, in full view of the famous Mackinac Bridge. The island is a great little tourist trap, with tons of cool shops, a big huge fancy hotel, and all sorts of great activities...one of the most popular of which is bicycling. You can bike around the whole exterior of the island in about an hour and a half, with stops, being 8 miles around. It's a perfect place for a family weekend getaway. What's kept me from going there since I was a kid is that it's just a long, long, long drive for a weekend getaway. Check out this driving directions link that I based my fuel costs for my minivan to travel to St. Ignace, MI. In short, it's 8 hours, and $72 in auto gas alone, not to mention the Tylenol and Tums costs you have to pay for putting up with kids in the car for 8 hours.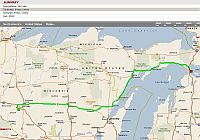 Now, once you get to St. Ignace, it's time to board the ferry. Plan to fork over $21 per adult, and 1/2 price for kids. Oh, and you want to save money on a bike rental and bring your own? Well, that's another $7 to bring your own bike across. Now, it's not that the ferry ride wouldn't be fun, but it's just a short ride to the island, and if you have your own plane, you have more exciting ways to go anyway. Bike Rentals on the island are all very similar, but are offered on an hourly or daily/weekly basis. For us, we rented a tandem and a 3-speed with tag-along bike for $27...less than it would have cost us to bring our own bikes over.



Flying to Mackinac


The flight to Mackinac is a great one from our place, taking you along the North Shore of Lake Michigan. You pass near Beaver Island on the North end of the lake, and the final segment of the trip is all over water flying up the straits towards the Mackinac bridge.

---

Above you can see some photos of the enroute and approach to Runway 26 on the island. They have noise abatement procedures (basically climb to 1900' before turns, and don't overfly the island), and the runway is in excellent shape and is a little interesting in it's humped shape, with a small cliff on each side of the island, making it look a little like an aircraft carrier. Very simple to land on though. All in all, it was a very smooth and easy trip, taking only 1:42...a FAR cry from the 8 hours that a car would have taken, showing that if you value your time and comfort, you would want to travel by small plane. From a comfort standpoint, my wife even commented that she wished our car had seats as comfortable as the Oregon Aero built - Flightline Interior covered seats that we have in the plane.

Enroute Cruise Info from this Trip
As many people know, I'm a cheapskate when I fly. I like to fly throttled back to 65% or so, and fly Lean-of-Peak (LOP) whenever possible. This flight was the perfect opportunity for such flying, once again. I also like to gather performance info from these flights when I can remember, so here are some things to point out from this particular flight.
Note that we were cruising at 9500', in perfectly smooth air. On the second shot, note that the TAS shows 162....add about 1.8 to this for my known static errors and you get a cruise of 163-164kts TAS, with a nice tailwind helping push us along at 190kts groundspeed. Of special note on the 2nd screenshot is the "RNG" (Range, with reserve) shown on the nav info in the lower Right...these photos were taken after a couple hundred miles or so were already done on the flight, and yet I have 874nm of range remaining in this cruise configuration.
Moving on to the 3rd screenshot, you can see the power settings for this flight, giving 10.3gph of fuel flow. Yes, I'm definitely a penny-pincher in flying style, as I far prefer these low flow rates at 160-165kts to the 14gph balls-to-the-wall throttle position that gives around 170 or slightly higher knot cruise speeds. As for temps, it looks like I have an oddball cylinder on this flight, with #1 showing 371, but all others are in the 331F to 356F range. Oil temps are right in the normal range at 181F.
The 4th screenshot shows the NavLog page, with fuel info and time info for the remaining legs. Then the 5th shows a page that we like to refer to often, the Datalink page where the WSI weather shows any storm activity and lots of other information fields if enabled. You can see that the weather this day was very nice...a stark contrast to the week before!
---



Why 3 screens?


I get lots of questions as to why I like 3 screens in the panel, and armed with my new camera with a wider shooting ability, I figured I'd shoot some examples as to how you can lay out your flight displays with this sort of arrangement. If you're always a single-pilot, and you never or rarely have any help from your passengers, or you rarely share the cockpit and give rides, then this won't interest you. However, if you're like me, and you love giving rides, and love to hand over the stick, or on your trips you have a willing co-pilot or cockpit managment assistant, then this layout is fantastic. I'm blessed with a wife that not only likes to participate in watching weather, monitoring temps, and entering waypoints and flight info, but she likes to maintain her own level of proficiency by taking the controls and learning how to actually do the flying and navigating tasks for herself, even though she maintains that she has no interest in becoming a pilot herself.
Given the various possibilities of screen functions and the various possibilities as to who handles what tasks, there are many ways you may want to configure your screen layout, and you may want to even change them in-flight.


Single Pilot
Takeoff Config
Engine Gauges Center
Nonsense, but shows
flexibility
Co-Pilot Flying
Pilot + Co-Pilot
Takeoff Config
Pilot + Co-Pilot
Enroute Navigation
Standard Single-Pilot
Configuration
Single Pilot
Co-Pilot utilizes 3rd
screen for weather or
other tasks
Standard Single-Pilot
with HSI displayed
---

On The Island

After arriving at the island we were greeted by a parking ramp filled with airplanes of all types. The Terminal is currently being remodeled, but the people there were very friendly as they assessed our $10.50 fee for parking there for the day. There is lots of parking available, and they had so many planes that lots of high-wing'ers parked off in the grass next to the ramp. It's a very nice airport, and everything is in great condition.


To get from the terminal into town, you can either call a Taxi, which is a horse-drawn carriage ($6.50 per person) or you can walk it. In the spirit of saving money and exploring anything we wanted on the way in, we decided to walk it in. It takes about 20 minutes to walk into the main tourist trap part of town. You walk past many beautiful sites, including the Grand Hotel, and lots of lush green areas.
Looking below, you can see that we made no delay in visiting a Mackinac Island fudge shop. That's what we get for arriving late for lunch and hungry, as we passed fudge before we passed other food. We shot photos all the way around the island. In the row below you see a zoomed-in photo of the bridge and 2 shots later is the zoomed out version. That new camera, an olympus SP-550UZ, has a great 18x zoom, in addition to being wider than most of the small/mid-sized cameras.
We rented bikes on the island...a tandem and a regular with a tag-along. That worked great for keeping the family together. We stopped along the way to see the arch, sit on the rocky beach, and take photos at some various areas. The entire round-island trip is 8 miles long, and it's almost completely flat, so it's an easy ride. For those staying more than just a short half-day like us, it's worth it to keep the bikes and explore the many trails and other paths more inland.
After we had eaten lunch and circled the island, we decided to call it a day and take the horse-drawn taxi back to the airport. Having and airplane of your own to get to the mainland, you're not tied to a tight schedule and you feel free to come and go as you please. Back at the ramp we saw that it was clearing out slowly, but there were still many planes left there. Some time when we go, we'd like to stay until dark and see the town at night.
---



Leaving The Island



As we took off, climbed and after reaching 1900' we circled the island for a view of where we had been. It's a pretty small island overall, with the runway taking up about 1/2 of the island's width.

Back on the mainland we opted to stay at St. Ignace. In our usual spirit of free-will travel, we had made no reservations for a hotel, and no firm plans on where to stop or stay. St. Ignace appeared, from the airnav.com website, to have slightly cheaper hotels, and it was just a short 5nm flight from the island, so we opted for that area. We must have picked the PERFECT weekend because everyone had vacancies, it seemed fairly slow, and we had the pickin's of everything we needed. The folks at Great Lakes Air were fantastic, and we traded them a hundred bucks in 100LL @ $4.20/gal (not too much more than the $72 that the car trip would have taken) for the use of one of their courtesy cars (plus we topped that off for them too), which they allowed us to use overnight. We dropped by a couple hotels to inspect their pools and check rates, and quickly settled on the Holiday Inn Express (Hey, doesn't that make me an expert on everything now? <G> ) , which was fantastic. We got a great rate on a double-queen jacuzi room...how come we never have that luck when we DON'T bring the kids? Then we were off to supper. The highly recommended places were the Mackinac Grille for most anything and The Galley if you liked fish. Well, we had a great meal at the Mackinac Grille, but we had their special, the fish. It seems you couldn't go wrong at either place, from their menus.

After dinner we paid the $2.50 toll (twice) and drove the bridge (twice). It's one impressive bit of construction, after you take the time to watch the History Channel's show on how it was built. The rest of the night was spent playing in the pool, hanging out in the jacuzi, and sleeping. Then in the morning we climbed up to the top of Castle Rock and got souveniers at their shop. The people were friendly there too.


Heading Home

With no particular schedule or plan to keep, we decided that our trip home would be going North and then along the South shore of Lake Superior, one of my favorite places, for a leisurely, low-altitude sightseeing trip. This would add about an hour to our trip, not including the extra time from traveling home with a headwind.


Leaving St. Ignace, we climbed and circled Castle Rock and the Mackinac Bridge, and then we flew North to Sault Ste Marie. The Sault is a great place for it's own vacation weekend, and we've already taken the kids there and rode the Agawa Canyon train into Canada, and done many other things there, but we hadn't seen it by air. The Sault is the start of the St. Lawrence Seaway, where there is a large series of shipping locks where all the big freighters pass on their way to the other lakes or to the Atlantic. It's a very cool operation.
After flying out of Sault Ste Marie, we continued on and up to Whitefish Point, flying very near to the spot where the Edmund Fitzgerald still lays on the bottom of Lake Superior. We used to come up and do some SCUBA diving on shipwrecks in this area, and it was a beautiful day to see it all from the sky.
Lake Superior has fantastically clear water, looking much like the caribbean at times. Some of it is very rugged along the shore, and some is nice and sandy, but all of it is magnificent.
As we flew along the shore, the next place we came to was Munising Michigan, another one of our old favorite diving destinations. In the 2nd photo above, if you look closely off the tip of the wing, you can see one of the cool shallow shipwrecks in the water, with a single white buoy next to it. One day we will return here with the kids, and let them swim in and out of that cool wooden ship. We continued along, bypassing the shores of the Keeweenaw peninsula and Copper Harbor...another of our favorites, and instead let our stomaches get the best of us. We stopped for lunch at Ironwood, MI, where the service was once again great, providing us with a courtesy car in exchange for a top-off.

From that point out, we headed West over the Bayfield area, and circled Madeline Island, one of the popular Apostle Islands which provides some excellent boating and camping opportunities. There is another shallow shipwreck right off shore off the wingtip in the last photo. We'll be returning here some day too, to take the kids out by boat around the many islands. Lake Superior provides some of the best vacationing you can find in the entire world, and we got to see a lot of beautiful shoreline on our return trip. We missed out on some of the best though, with the Keeweenaw skipped, and especially the North Minnesota Shore, but that's a trip for another day.

You can see why traveling by RV can be a great way to go. Not only does the economy compare nicely when the drive is $72 but the flight is $100, but we were able to save on ferry boat rides too. With drive times being excruciatingly long, but air times being just a quick jaunt away, it really changes what you can do with a 2-day weekend, or in our case, a leave-late-Saturday a.m. to a get-home-early-Sunday evening. It's a great way to allow the kids to see lots of cool sights, without using all your vacation time to do it. A summer only has so many weekends in it, and with work schedules interfering a couple weeks a month, we try to make the best out of any time we can get.


---